The Department of Mathematics of the Technical University of Graz will host a conference with the title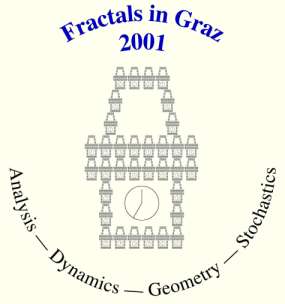 in the week of June 4 - 9, 2001.

PROGRAM

Here you can see a list of registered participants.

The organizing committee consists of

the last two being the local organizers.

The purpose of the conference is to bring together researchers from various mathematical areas who share a common interest in fractal structures, with openmindedness to interaction between different fields in- and outside the fractal world. The subtitle of the conference will explain the range of topics.

We also mention that this meeting is loosely linked with the special semester 2001 - RANDOM WALKS that will take place at the Schroedinger Institute (ESI) in Vienna in the period February - July 2001.

The conference fee is ATS 1000 (EURO 73), to be paid at the beginning of the conference in cash.
The fee comprises a copy of the proceedings volume, tea/coffee breaks, and further activities. There will be receptions by the Region of Styria (Tuesday evening) and the City of Graz (Thursday evening).

On Wednesday afternoon there will be an excursion to Riegersburg castle followed by a visit to a winery ("Buschenschank"), where a rustic dinner will be served. This excursion will cost ATS 100 (EURO 7.3) to be paid at the beginning of the conference.

Regarding accomodation, please make your own reservation. We have obtained special prizes from the following three hotels:
Hotel Mercure
Waltendorfer Gürtel 8-10
8010 Graz
Tel: +43 316 826300-0
Fax: +43 316 826300-630
graz@hotel-mercure.co.at
http://www.mercure.com/

single room ATS 900
double room ATS 1100
This Hotel is at walking distance from the Math. Institute. The invited speakers will be accomodated there. In addition, they have reserved 17 rooms for the participants until one month before the conference.


Hotel Mariahilf
Mariahilferstrasse 9
8020 Graz
Tel: +43 316 713163-0
Fax: +43 316 717652

ATS 550 per person
This Hotel is very close to the center; to the institute it takes 15 minutes by tram or 25-30 minutes walking. (A weekly ticket, "Wochenkarte" for public traffic in Graz costs ATS 100.) "Mariahilf" did not reserve rooms for us, so the sooner you book the better it is.


Hotel Johannes
Münzgrabenstrasse 48
8010 Graz
Tel/Fax: +43 316 837766

single room ATS 520
double room ATS 860
This is slightly more modest, but just around the corner from the Institute. They have reserved 10 single and 3 double rooms for us until the beginning of April.
Further hotels can be found under http://www.graztourismus.at/.

With aproximately 230.000 inhabitants, Graz is the 2nd largest city of Austria, situated in the region of Styria, 180 km (110 miles) Southwest of Vienna. It has a University and a Technical University, a pleasant old center that is not yet overcrowded by tourists, and nice hills and mountains nearby to the North, plus a wine-growing area with rustic wineries to its South. The airport of Graz can be reached via Vienna, Frankfurt, Zurich, ... and some other "hubs". By train, it takes 2 hours and 40 minutes from Vienna.

We have invited the following colleagues to give one hour plenary lectures at this conference:
| | |
| --- | --- |
| Martin Barlow (University of British Columbia, Vancouver) | (confirmed) |
| Thierry Coulhon (Université de Cergy-Pontoise) | (confirmed) |
| Kenneth Falconer (University of St. Andrews) | (confirmed) |
| Hillel Furstenberg (Hebrew University, Jerusalem) | (confirmed) |
| Rostislav Grigorchuk (Steklov Mathematical Institute, Moscow) | (confirmed) |
| Ben Hambly (University of Oxford) | (confirmed) |
| Jun Kigami (Kyoto University) | (confirmed) |
| Takashi Kumagai (Kyoto University) | (confirmed) |
| Michel Lapidus (University of California, Riverside) | (confirmed) |
| Andrzej Lasota (Silesian University, Katowice) | (confirmed) |
| Michel Mendès-France (Université de Bordeaux) | (confirmed) |
| Alexander Teplyaev (McMaster University, Hamilton) | (confirmed) |
Furthermore, Heinz-Otto Peitgen (Universitšt Bremen) has agreed to give a "popular" talk for a broad audience (in German).
There will be a proceedings volume, edited by P. J. Grabner and W. Woess, that will be published by Birkhäuser Verlag, probably in the series "Progress in Probability". It will contain articles by the main speakers and a few others (upon invitation). It is planned that it should appear at the beginning of 2002.
This homepage is maintained by Elmar Teufl.